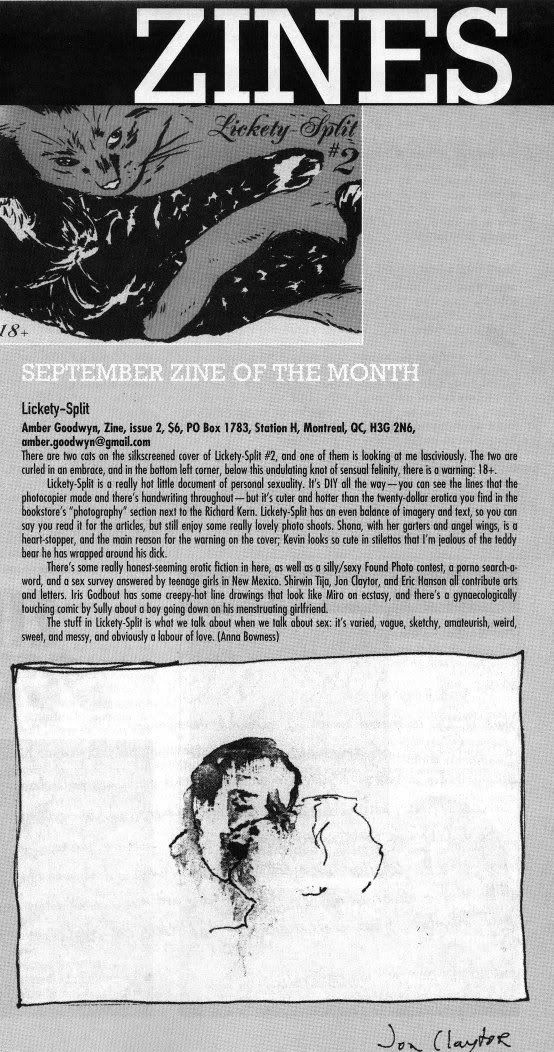 http://www.blogger.com/img/gl.link.gif
What lovely a lovely surprise it was to travel by bus out to Canzine Toronto this past weekend, zines strapped to my back, to show up and find all this nice press coinciding neatly with the trip! Along with a mention in last weeks
Dose
magazine, Lickety Split was selected as Broken Pencil's September Zine of the Month! Setting up my table in Canzine was a great experience because of my very special friends K + A who supported me big-time. They were incredible hosts and I appreciate their inflatable mattress which caught me as I crashed at the end of each day.
I met a lot of really friendly people at Canzine espcially the sweethearts to either side of me who would watch over my table as I went a-wandering and a-money burning, and I theirs.
Picked up loads of zines and other curios, and I though I'd share some of the smuttier titles with you:
Black Heart Magazine- a sexy smutty litzine out of Montreal. Nice layout, stylish.
s/he's got labe- a fun, genderqueer publication with lots of variety in the articles written. Ver smart and fun. I have #10, and may order all the previous issues quite soon!
Hard Liquor and Porn- A zine created to accompnay and help promote the Hard Liquor and Porn film and video festival. Lots of naked ladies inside, colour cover. Some photos from festivals and stills from video/films.
Smut Magzine- ...has gone glossy! With Annie Sprinkle as cover girl and articles such as Butt Sex, sexy photos and product reviews, this is definitely the slickest of the bunch.
More soon!
Amber