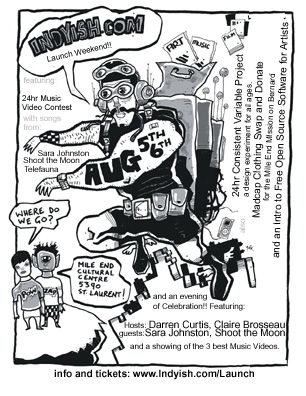 For the Indyish.com Arts Weekend, Montreal musicians Telefauna, Shoot the Moon, and Sara Johnston (songstress also of Bran Van 3000) want you to make their music video!
Each band has donated a secret new song for the contest. Participants will be given one song at random on August 5th, and have 24 Hours to make the video. The band and their chosen judges will watch the videos Sunday afternoon, and favorites will be shown the night of the 6th at the Indyish Launch Party. All the videos will also be screened at a follow up wrap party, hosted by the Acting Studio of Montreal, later in August.
If you choose to embark upon this dangerous mission, be forewarned: you won't have access to the band themselves, so you'll have to get creative. You'll have to use your own equipment and be able to burn the final product onto DVD. The song, the lyrics, and a blank DVD will be the only things provided. So start scheming now!
Rope in those actor buddies, grab some film stock, start scouting (heck even shooting) your favourite Montreal locations. Prepare to make your own video masterpiece, and do it in support of- and collaboration with- some of our city's great independent artists.
Your music video can be filmed on any medium but must be submitted on dvd to be eligible for the competition. You can use your cell phone camera, or the Internet archives at Archive.org, or the old footage you have lying around. Basically, if you can make it work, anything goes.
- Every DVD submitted will be featured on the website, with clear artist and videographer credits, and links to websites.
- Winners will get screened at the launch party, and could potentially become the band's official video for that song.
- Videos made during the 24hr challenge will be compiled on an Indyish launch DVD, made available through the site. (Only the product of the 24hr Video Making will be licensed for Indyish use- once you polish the video at all, it's new thing, and negotiating future use is up to band and videographer. And more power to you.)
Cost to participate per team: 2$ in advance, 4$ at the door.
Participation is limited to 45 teams.