Here they are!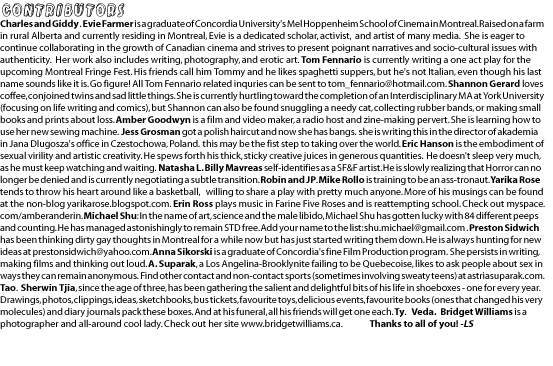 Charles and Giddy .
Evie Farmer is a graduate of Concordia University's Mel Hoppenheim School of Cinema in Montreal. Raised on a farm
in rural Alberta and currently residing in Montreal, Evie is a dedicated scholar, activist, and artist of many media. She is eager to continue collaborating in the growth of Canadian cinema and strives to present poignant narratives and socio-cultural issues with authenticity. Her work also includes writing, photography, and erotic art.
Tom Fennario is currently writing a one act play for the upcoming Montreal Fringe Fest. His friends call him Tommy and he likes spaghetti suppers, but he's not Italian, even though his last name sounds like it is. Go figure! All Tom Fennario related inquries can be sent to tom_fennario@hotmail.com.
Shannon Gerard loves coffee, conjoined twins and sad little things. She is currently hurtling toward the completion of an Interdisciplinary MA at York University (focusing on life writing and comics), but Shannon can also be found snuggling a
needy cat, collecting rubber bands, or making small books and prints about loss.
Amber Goodwyn is a film and video maker, a radio host and zine-making pervert. She is learning how to use her new sewing machine.
Jess Grosman got a polish haircut and now she has bangs. she is writing this in the director of akademia in Jana Dlugosza's office in Czestochowa, Poland. this may be the fist step to taking over the world.
Eric Hanson is the embodiment of sexual virility and artistic creativity. He spews forth his thick, sticky creative juices in generous quantities. He doesn't sleep very much, as he must keep watching and waiting.
Natasha L.
Billy Mavreas self-identifies as a SF&F artist. He is slowly realizing that Horror can no longer be denied and is currently negotiating a subtle transition.
Robin and JP.
Mike Rollo is training to be an ass-tronaut.
Yarika Rose tends to throw his heart around like a basketball, willing to share a play with pretty much anyone. More of his musings can be found at the non-blog yarikarose.blogspot.com.
Erin Ross plays music in Farine Five Roses and is reattempting school. Check out myspace.com/amberanderin.
Michael Shu: In the name of art, science and the male libido, Michael Shu has gotten lucky with 84 different peeps and counting. He has managed astonishingly to remain STD free. Add your name to the list: shu.michael@gmail.com .
Preston Sidwich has been thinking dirty gay thoughts in Montreal for a while now but has just started writing them down. He is always hunting for new ideas at prestonsidwich@yahoo.com.
Anna Sikorski is a graduate of Concordia's fine Film Production program. She persists in writing, making films and thinking out loud.
A. Suparak, a Los Angelina-Brooklynite failing to be Quebecoise, likes to ask people about sex in ways they can remain anonymous. Find other contact and non-contact sports (sometimes involving sweaty teens) at astriasuparak.com.
Tao.
Sherwin Tjia, since the age of three, has been gathering the salient and delightful bits of his life in shoeboxes - one for every year. Drawings, photos, clippings, ideas, sketchbooks, bus tickets, favourite toys, delicious events, favourite books (ones that changed his very molecules) and diary journals pack these boxes. And at his funeral, all his friends will get one each.
Ty.
Veda. Bridget Williams is a photographer and all-around cool lady. Check out her site www.bridgetwilliams.ca.
Thanks to all of you! -LS