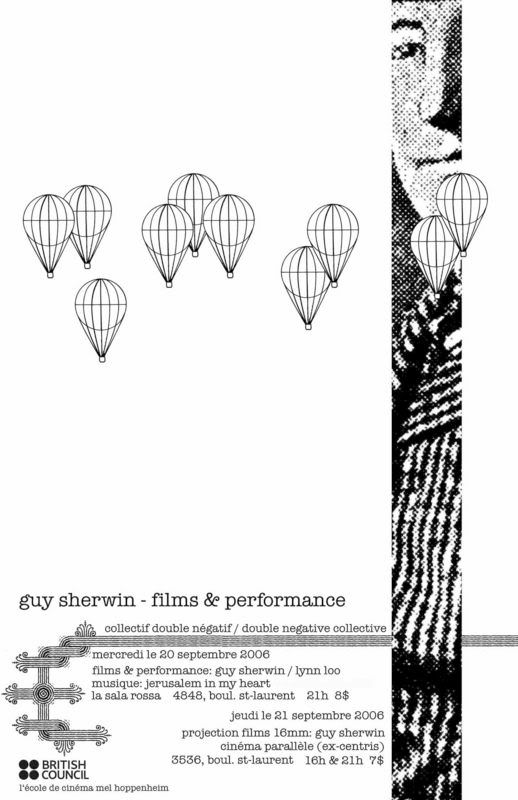 Dear Friends,
UK film artist GUY SHERWIN will make his long-awaited debut appearance in Montreal for a series of performance, screenings and lectures beginning on September 19, 2006. A key figure in British experimental cinema for more than three decades, Sherwin continues to make films that offer glimpses into a stunningly beautiful and poetic universe through the quintessential properties of cinema: light moving in time.
Guy Sherwin's films have been widely exhibited in England and abroad, as part of 'Film as Film' Hayward Gallery 1979, 'Live in Your Head' Whitechapel Gallery 2000, 'Shoot Shoot Shoot' Tate Modern 2002, 'A Century of Artists' Film & Video' Tate Britain 2003/4; also shown on BBC2, Channel 4 and Arte TV France. Solo shows include San Francisco Cinematheque, LUX London, International Film Festival Rotterdam and Image Forum Tokyo.
September 19 (Tue.)
Artist Talk
Venue: Concordia University's EV Building 1-615
1515, rue Ste-Catherine O. (Metro Guy-Concordia)
Time: 6:30 p.m.
The event is free and open to the general public.
Sponsored by Concordia Studio Arts Visiting Artist Program (SAVAP).
Info: (514) 848-2424 poste 4213 (Eliza Griffiths)
September 20 (Wed.)
Live Film Projection Performance (with Lynn Loo and guest musicians)
Preceded by: Jerusalem In My Heart with film projection by Karl Lemieux, member of the Double Negative Collective.
+ PEOPLE FOR AUDIO!
Venue: La Sala Rossa
4848, boul. St-Laurent (Metro Mont-Royal or bus #55)
Time: 9 p.m.
Ticket: $8
PROGRAM
Optical Sound Films:
Cycles #3 (1972/2003, 9 min.)
Live projection for two 16mm projectors, two loudspeakers.
Vowels and Consonants (2005, 12 min.)
With Lynn Loo and guest, for six 16mm projectors, three with optical sound.
Newsprint #2 (1972/2006, 10 min.)
Live projection for two performers, two 16mm projectors, two loudspeakers.
Railings (1977, 9 min.)
16mm for vertical format projection and optical sound.
Live Performance:
Man with Mirror (1976/2006, 9 min.)
Live performance for super 8 film and hand-held screen.
Urban Spaces:
Station. Camden Road (2004 [from The Train Films], 8 min.)
Three screen 16mm projection, silent.
Bay Bridge from Embarcadero (2006 [from The Freeway Series], 6 min.)
Three screen 16mm projection, silent.
For tickets call: 514.284.0122 or email: info@casadelpopolo.com
http://www.casadelpopolo.com/salaconcert/home.htm
September 21 (Thu.)
Film Screenings
Guy Sherwin : 16mm Films (1975 - 2003)
Short Film Series / Animal Studies / Prelude / Messages
Venue: Cinema Parallele (Ex-Centris)
3536, boul. St-Laurent (Metro Sherbrook)
Time: 4 p.m. / 9 p.m. (artist in attendance for Q&A)
Ticket: $7
PROGRAM
Selections from Short Film Series and Animal Studies
(16mm / total approx. 30 min. / b&w / silent / 1975 - 2003)
Short Film Series - Eye, Tap, Cycle, Breathing, Metronome, Chimney, Portrait with Parents and Tree Reflection.
Animal Studies - Swans, Coots, Tree & Cloud, Cat Sleeping, Fish & Fly, Web and Gnats.
Prelude (16mm / 12 min. / b&w / sound / 1996)
Messages (16mm / 35 min. / b&w / silent / 1981-3)
Total running time: 75 min.
All films projected on 16mm.
Box Office: 514.847.2206
http://www.ex-centris.com
Organised and presented by the Double Negative Collective with support from the British Council, SAVAP (Studio Arts Visiting Artist Programme at Concordia University) and Mel Hoppenheim School of Cinema.
For more information on the artist and his work, visit:
http://www.luxonline.org.uk/artists/guy_sherwin/index.html
Hope to see you there!
Double Negative Collective