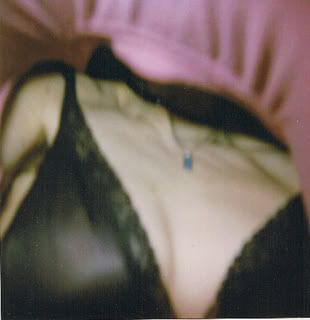 hello friends, it's Neetzie here or aka giddy. Just thought i'd say hi. I 've been working on Lickety Split since it's birth back (whenever that was) as a contributor, photographer and general slave. Amber really is the master and when she says 'get naked', well then i get naked, and as you could imagine, erotica is born. I remember when the idea for LS first came about. Amber and I were working for a christian organization and we would talk about smut and art (and who we were cruise-ing) all day long, so eventually these ideas (mostly amber's), became the zine. I remember that we would sneak photocopies of our erotic art work in between organizing a food bank and doing interpretive dances to hymns for money. We felt really dirty. Then an article in the Link came out about LS with amber's name all over it and some photos of me topless and the cat was out of the bag. For some reason, our boss the priest, didn't fire us. Thank god for open minded feminists. I do imagine though that she said a prayer or two. In fact, i think fans should take a moment to thank Jesus for his influence of this fine zine.
But really, one day Amber came to the office and said to me, "Anita, I can make you famous.", and I said "How?", and she said, "Get naked." So i did and we're both still waiting for fortune.
This edition is going to be really exciting. We have a few projects that we need participation for so keep your ear to the ground and we'll get back to you for details. One hint though, it involves you being able to realize your fantasies about wearing panties and a mustache all at the same time!
xoxo friends, keep it hot and safe.