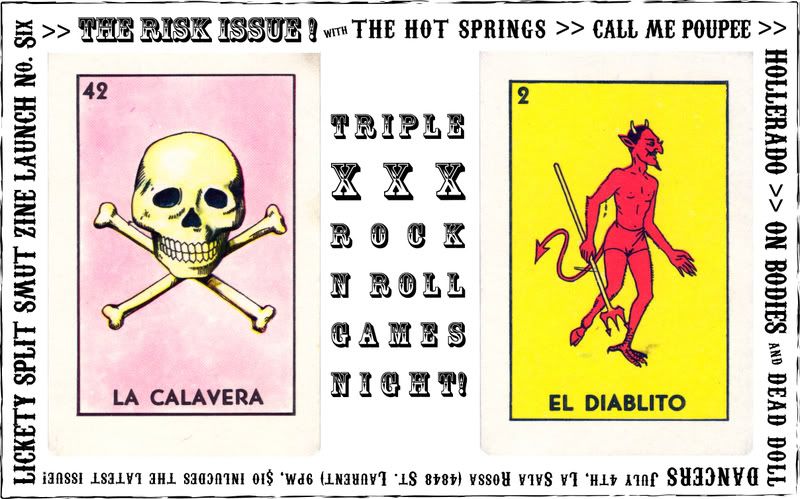 For Immediate Release: June 9 2008
-

Lickety Split smut zine will launch issue
#6:


The R I S K issue

with a

rock n' roll games night

! X ! X ! X !
with
The Hot Springs, Hollerado, Call Me Poupee, On Bodies
and the
Dead Doll Dancers
at La Sala Rossa (4848 St. Laurent), July 4th, 9pm, $10 with a copy of the latest issue
The riskiest party of the summer is going down at Sala Rossa, (4848 St. Laurent) on July 4th at 9pm, ten dollars gets you in the door and a copy of the latest issue. The bands playing are The Hot Springs, Hollerado and On Bodies!!! Be on guard for burlesque shenanigans care of the Dead Doll Dancers and games galore! Count on getting down for games of TWISTER, SEVEN MINUTES IN HEAVEN, RISK and the like! Also, smutty revelers are encouraged to take advantage of one another in our Lickety Split Dirty Photo Booth, contents of which may be published on-line at licketysplitzine.com or in the next issue of the zine.
Lickety Split #6: The R I S K issue includes tons of daring new work exploring the chance-y, dark and playful with photos of sex in public and needle play, an essay on being queer in prison, profiles on Lamda Instanbul and Sharing Is Sexy, "Dangerous Ladies" pulp fiction pin-ups by Andrea Hausmann and lots more! Featuring work by Sarah Beall, Nick Cabelli, Jeremy Edwards, Christina Foisy, Eric Hanson, Farah Kahn, Dayna McLeod, NOMRYN, Bill Puzstai, Omar Rahman, Nora Rohman, Ina Wood, The Prisoner Correspondance Project and Matt Jones, Neetzie, RoByn, Zo, triangles stuart, Noam and Earl, Jordan A with Mikiki and the Mystery Top, among many others. Our perrenial cover artist Sherwin Tjia (Slow Dance Night, The Hipless Boy, Pedigree Girls) has once again designed the cover art and Jesse Purcell printed them.
What they're saying about Lickety Split smut zine:
"Since appearing in 2004, Lickety Split has been dedicated to tenting your pants, wetting your undies and pressing a nerve." - Sacha Jackson, The Montreal Mirror
"It seems that every marginalized group wants its own version of pornography — punks, gays, lesbians, straight indie-rock chicks. But for those who want all of the above, there's Lickety Split." - Amber Drea, Venus Zine
About Lickety Split smut zine:
Lickety Split is a pansexual smut zine dedicated to encouraging sex-positive expression and thought. The zine promotes collaborative art making and encourages diverse contributions to climb into bed with one another, because one sexual expression just does not satisfy. Lickety Split wants to help make the masses cum with smutty photography and art, essays and stories in order to fulfill the whole human being and address the complexity of sex.